These links go to the hardcover,
or the Wild Stars: The Book of Circles -- Recalibrated trade paperback
or
Wild Stars 2: Force Majeure.
All three editions are availble locally at either
Collector's Edition
in North Little Rock,
or at
The Comic Book Store
in Little Rock.
---
NEW RECORD asking price for an Out-Of-Print edition of the WILD STARS!
The previous record was an Amazon seller asking $450 for a
Wild Stars: Book of Circles -- Recalibrated
first edition hardcover.
That's now been topped!
One is asking
$615.64
for the first paperback edition of
Wild Stars: The Book of Circles
on Amazon.
This is the only edition that includes my forward discussing surviving what was considered to be terminal leukemia at the age of 8.
Click this link
or the image below if you're interested!
That price does include Free Shipping!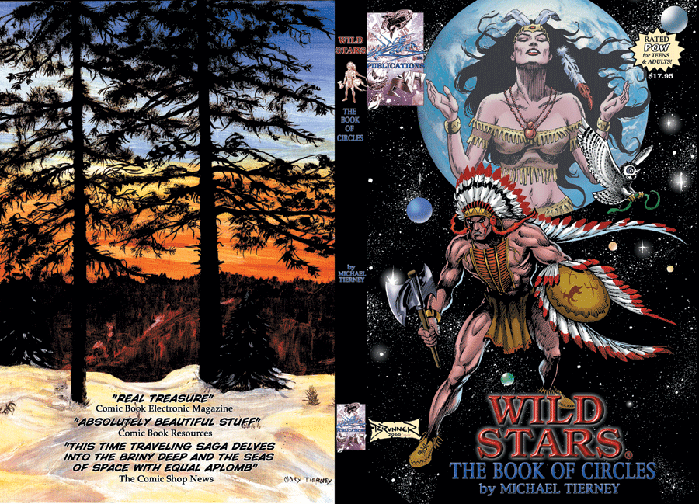 ---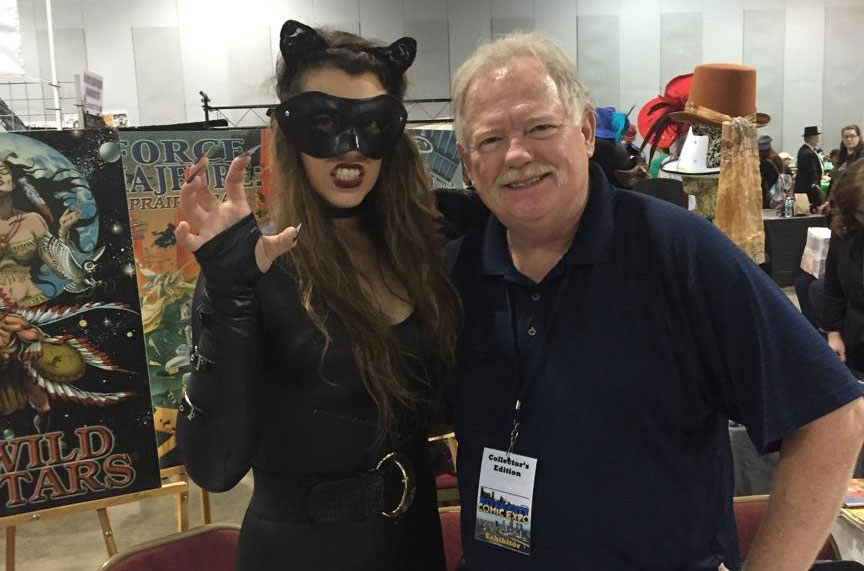 I was invited as a featured guest of the 2015 River City Comic Expo in Little Rock on August 29th, 2015.
To see more photos of the event, click on the photo
or this link.
---
I was LIVE on 96.5FM radio on
Shane Plays on Saturday, March 19, 2016
You can listen to Shane and myself discuss comics in general, my own Wild Stars comics and novels, plus my upcoming Edgar Rice Burroughs: 100 Year Art Chronology 3 book set.
Here's a link to the podcast version of the show (blog post).

And here's a link to the Direct MP3 version.

The program was replayed in California by Kryptonradio.com
---
Available now: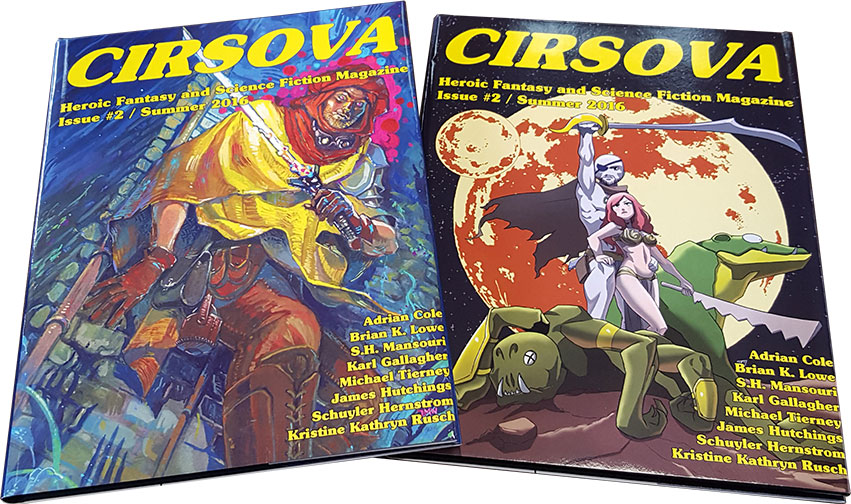 Featuring my new short story, Shark Fighter,
we currently have a limited supply of each cover of the paperback editions at both stores
.
Shark Fighter
is a tale of horror
beneath
the deep blue sea, see if you can guess the
Wild Stars
connection. It's tenuous, but it is there.
For more information about this issue,
visit this link.
Another Cirsova contributor mentioned my Shark Fighter story during his YouTube GeekGab podcast (visit this link)
.
Check it out starting at the 25 minute mark and continuing through when the host shouts:
"Stop the bus! A guy's fighting a shark!"
"Stop the bus!"
I'll take that review!
"Well written and there is a powerful emotional punch at its core."

"...not light fare, but .... meaty and gripping adventure"

"a grim sort of redemption"

---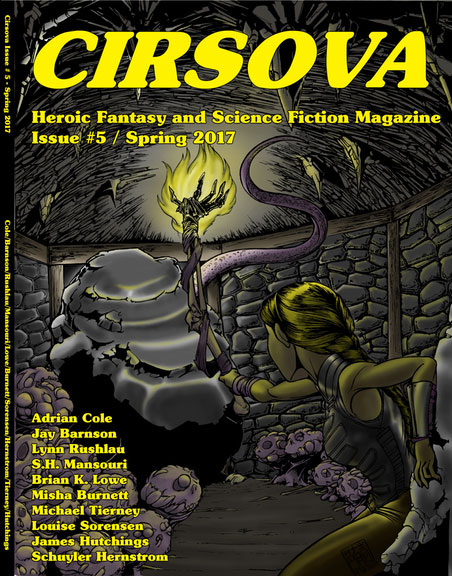 The Bears of 1812
I have a new story in Cirsova Magazine #5
(Spring 2017)
.
My story in Cirsova #2 was
Shark Fighter,
a psychological horror story.
This one is a historical fantasy titled
The Bears of 1812
.
The Bears of 1812
features native American legend Sacagawea from the Lewis & Clark Expedition, and her involvement in the War of 1812. As I told the editor;
"The stuff you'll think I made up is the stuff that really happened."
There were many incredible historical events during that time, and Sacagawea's history easily weaved right into the heart of it. 
Michael Tierney -- April 5, 2017
It's no wonder this magazine received a Hugo Award nomination.
What surprised me was "The Bears of 1812" by Michael Tierney . . . it was really interesting.
I like what he did with Sacagawea . . . very satisfying.
---
The Criteria for Admission Into the Galactic Community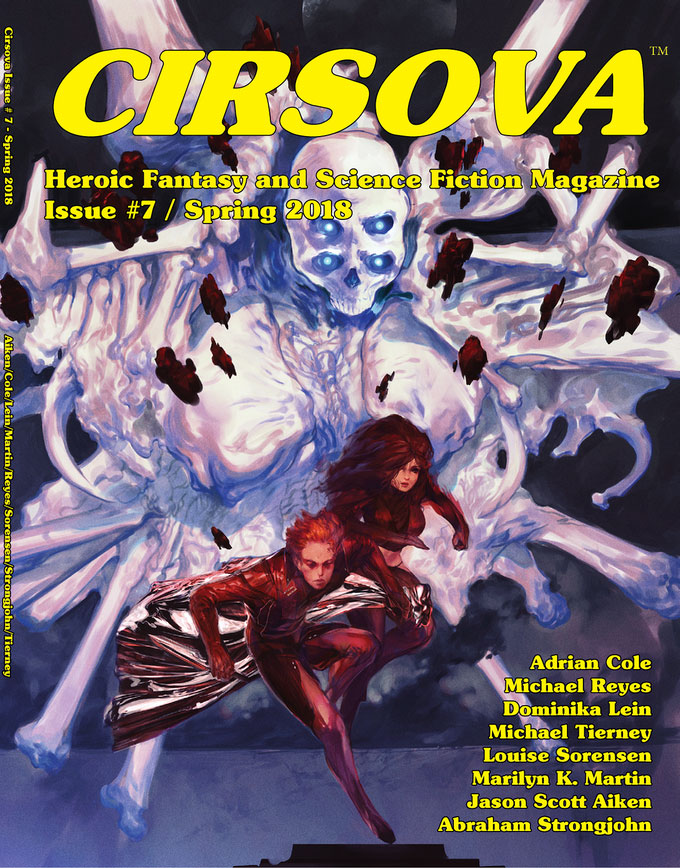 Cirsova #7 includes
The Criteria for Admission Into the Galactic Community
, my third contribution to the magazine.
The title tells you that this is a science fiction story.
It is available for preoder by clicking this
link
or the image above.
Like the following Edgar Rice Burroughs' 100 Year Art Chronology, this publication is funded on Kickstarter.
Also like the ERBAC project, it was quickly funded, surpassing its target goal by 500% on the second day!
February 19, 2018 Update!
The limited edition hardcover of Cirsova magazine #7 is now available.
The mass marker softcover will be out in a couple of weeks.
A social science-fiction story, I had the idea behind
Criteria For Joining the Galactic Community
while taking a swim break from working on the ERB Chronology.
Wrote it in something like five minutes, and then later that day received an email from the Cirsova editor that he was passing on one of my Wild Stars future history stories as being too grim. Since Criteria is lighthearted, I immediately submitted it without a proofread
(you can tell by the photo that it's a short-short story)
, and he snapped it up.
One caveat I should add is that when I wrote it, I didn't mention the name of the President in the story, wanting to leave it open to be either Bush, Obama, Trump, or whoever a future reader might want to think. In retrospect, I'm not surprised that the mention of fences in the story steered the editor to think it was Trump.
---
May 23rd, 2017 update:
The online magazine
Castalia House
has run a series of interviews with Cirsova authors, and mine is now online
here
.
The interviewer, Scott Cole, asked a lot of great questions that covered not just my stories in Cirsova magazine, but also about my
Wild Stars
comics and books, my experiences as a comic book retailer, and about my
Edgar Rice Burroughs 100 Year Art Chronology
.
---
Speaking of which, the
Edgar Rice Burroughs 100 Year Art Chronology (order link)
went on sale June 2018!
Click on any of the images below if you'd like to read more about the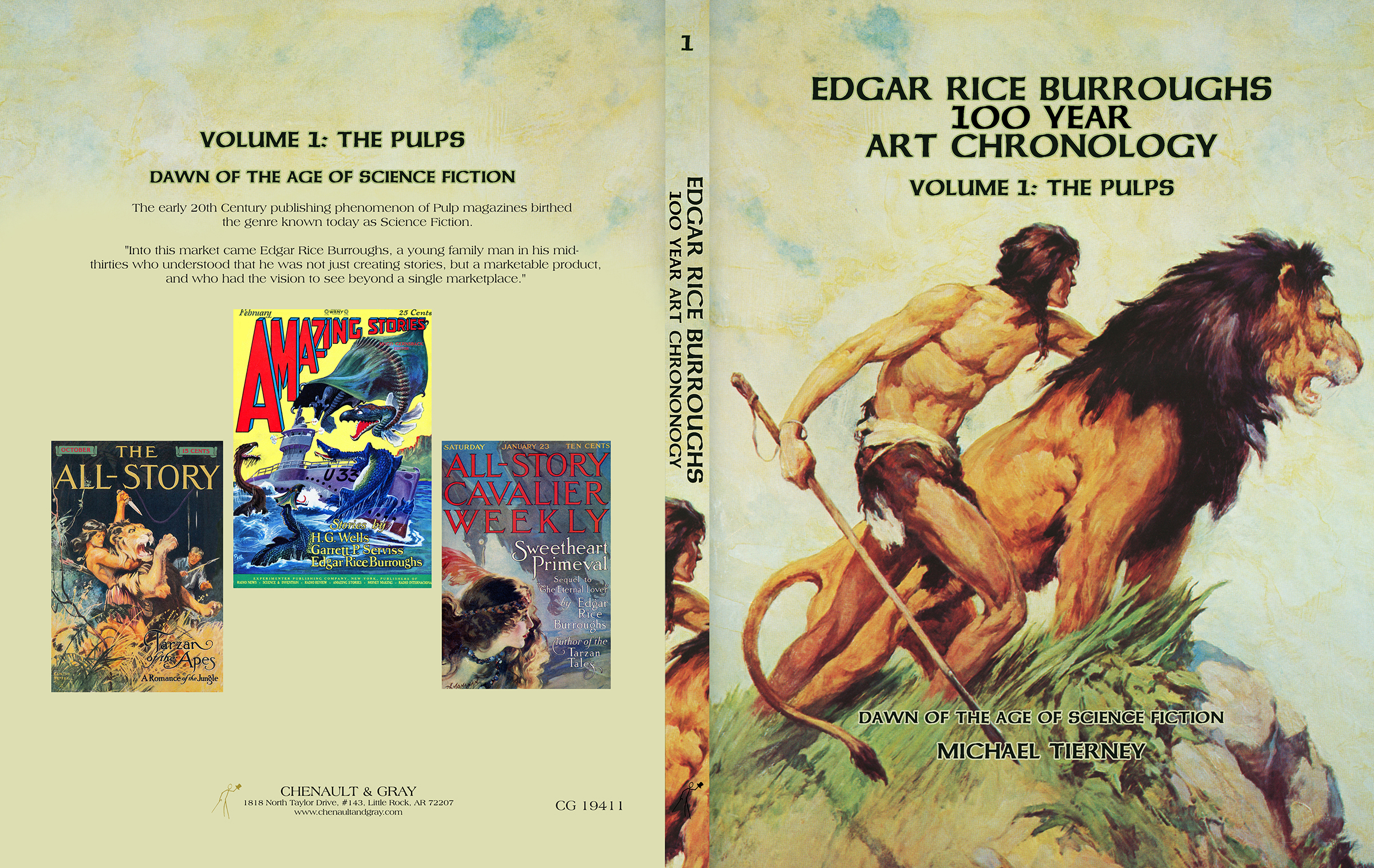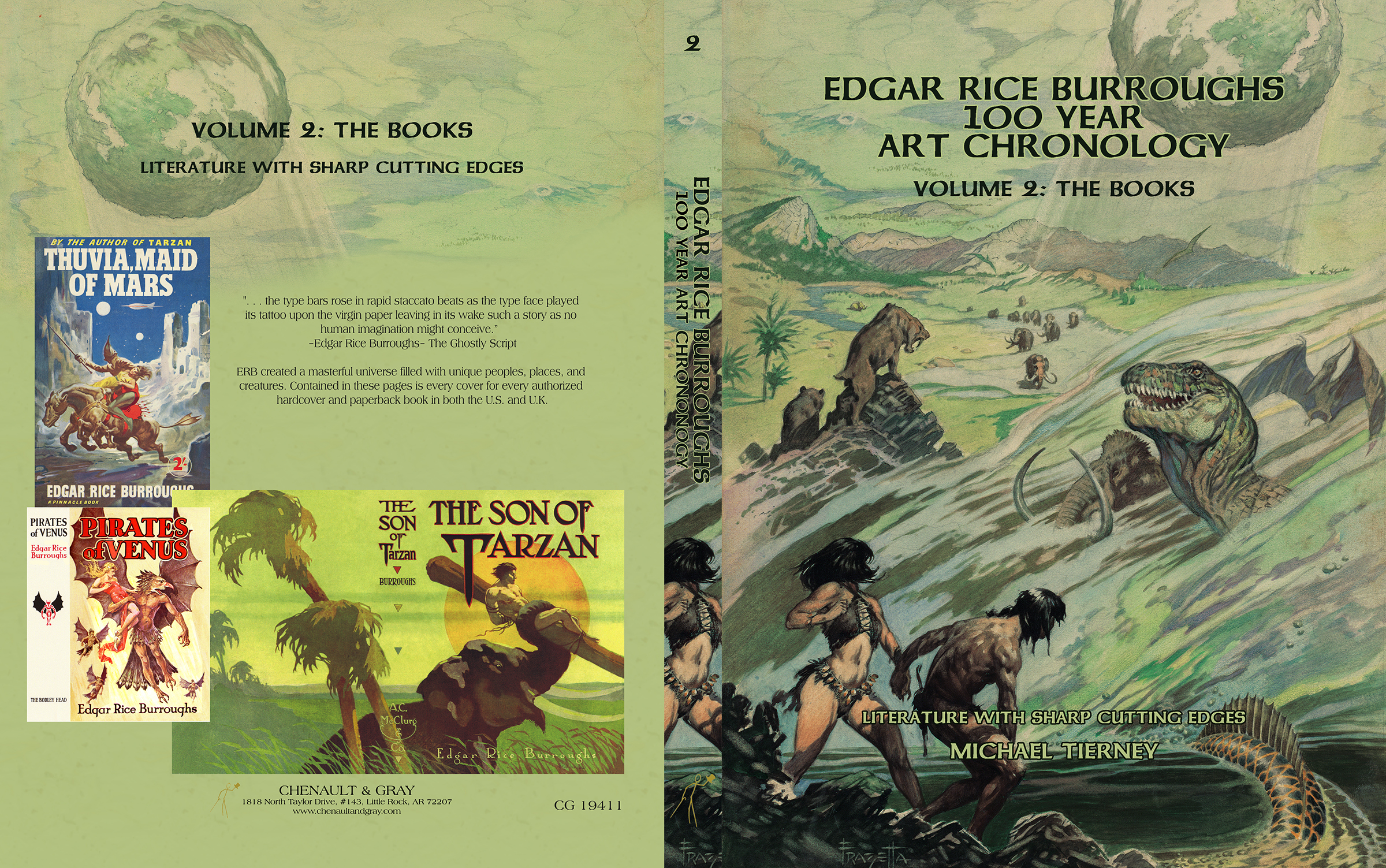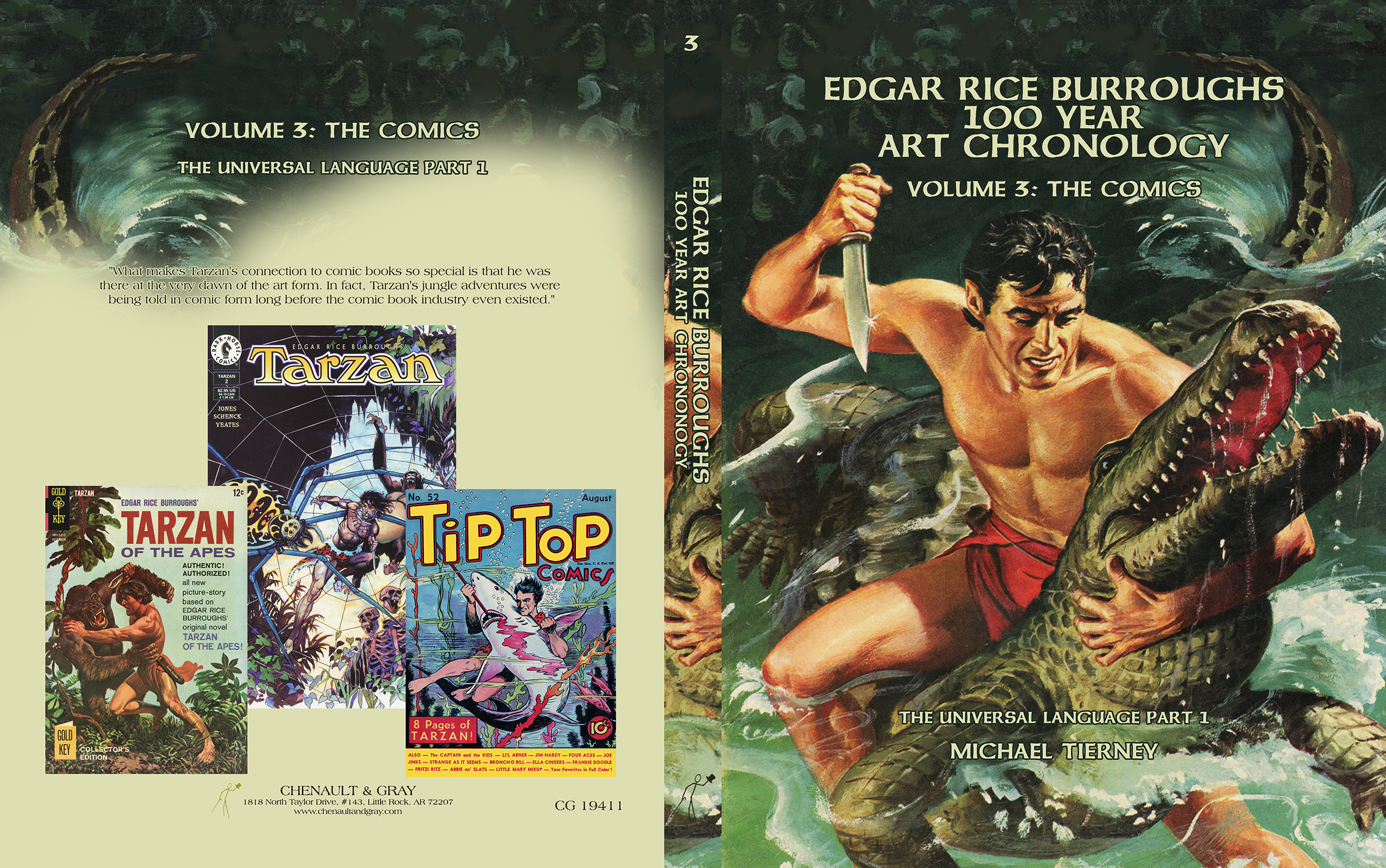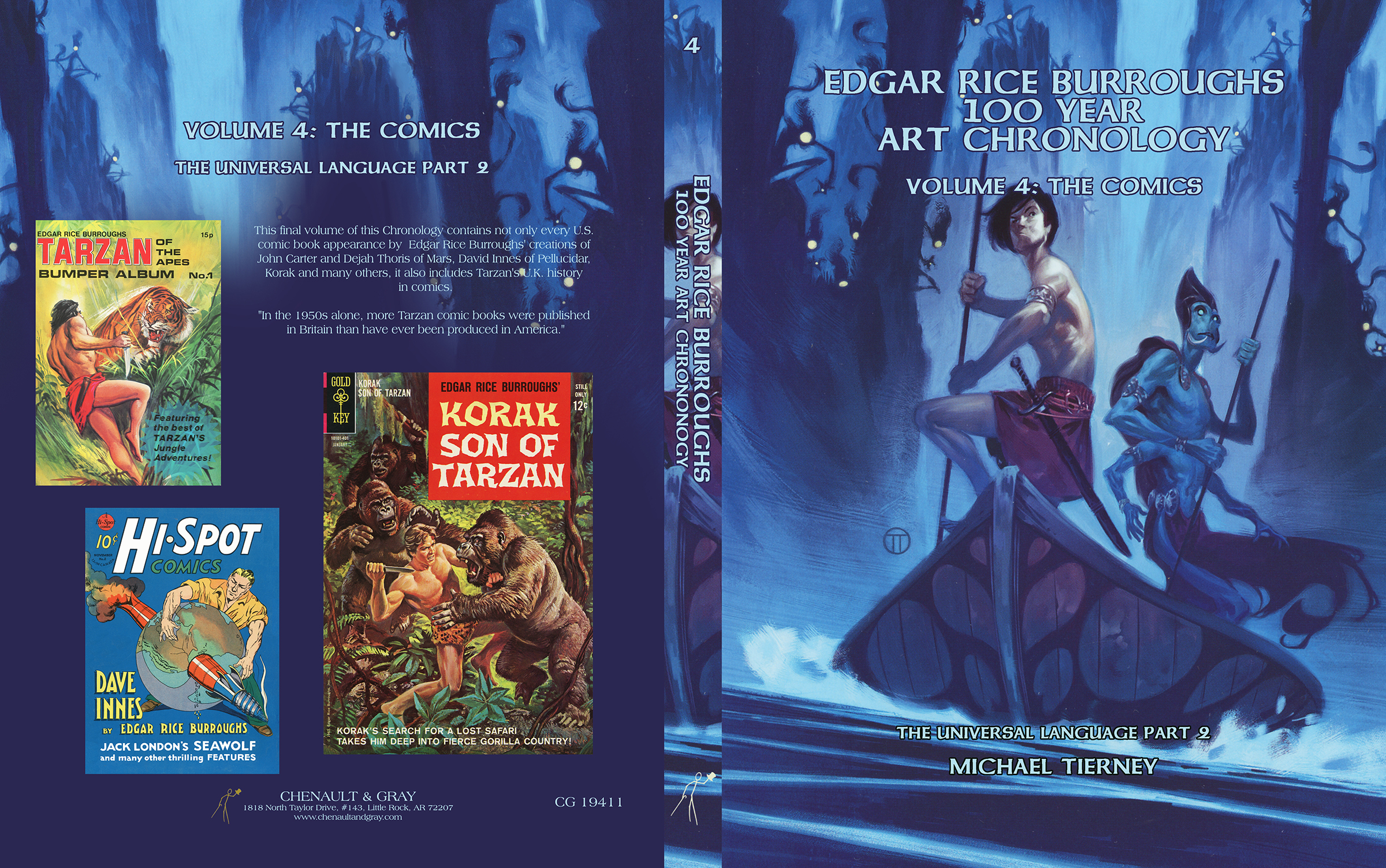 ---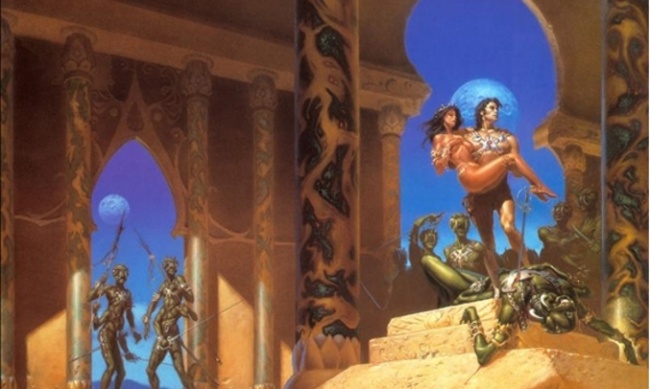 The comics specialty news site, ICv2, put up a news article about my
Edgar Rice Burroughs 100 Year Art Chronology
on June 2nd, 2017.
You can read all about it:
HERE!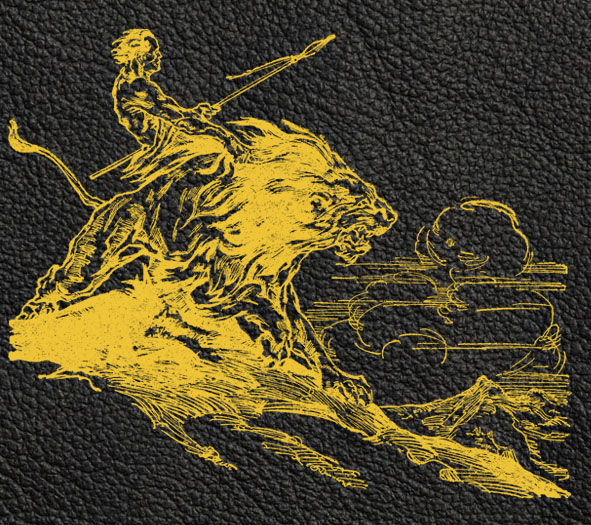 Edgar Rice Burroughs 100 Year Art Chronology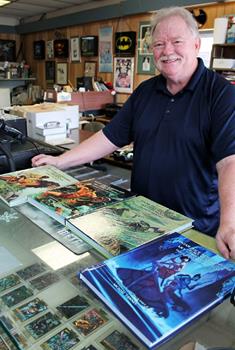 June 20th, 2018 Update!
On June 19th a great article ran on the front page of the Style section of the Arkansas Democrat-Gazette newspaper.
Reporter Sean Clancy
did a great job
!
June 4th, 2018 Update!
The Edgar Rice Burroughs 100 Year Art Chronology continues to ship out.
One retailer upped his order so many times it was a quarter-ton skid of books by the time it shipped!
But these are pretty heavy sets -- 15 lbs. each!
That means 3 sets weigh as much as a bag of concrete -- and should last as long or longer.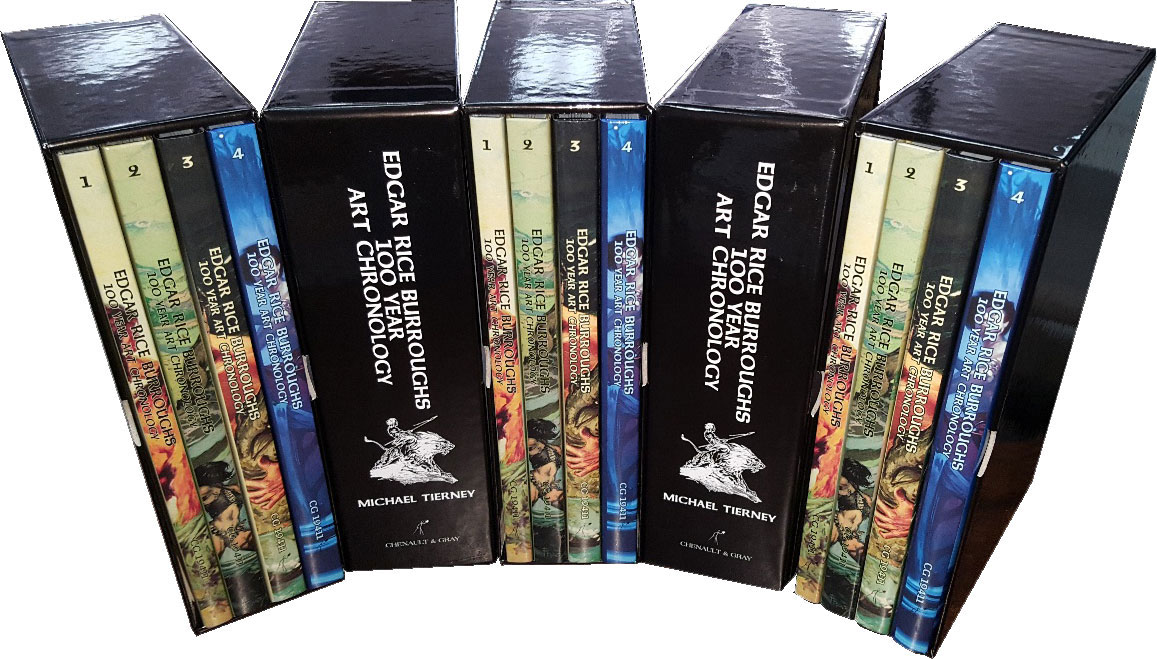 ---
---
Wild Stars III: Time Warmageddon
This latest chapter in the saga of the Wild Stars is first being published in magazine form by Cirsova Publishing, who have released several of my short stories.

Wild Stars III: Time Warmageddon is the entirity of this Summer 1918 Cirsova Special, which be manufactured strictly to Kickstarter orders.
This instant sellout was funded in the first 11 hours!

The main cover is by Tim Lim.
One reviewer was so impressed with Tim's work that he wrote:

". . . a manly hunk of manliness . . .
"Wild Stars III will put hair on your chest."


Interior art is by Mark Wheatley, who also provided a variant wraparound cover and the art for the back cover for the main edition.




Mark Wheatley also illustrated this virgin, text and bar code free, wraparound dust wrapper for the hardcover edition.


---