Welcome

to the

WILD STARS!

---




The Comic Book Store

---

---

What's New

---

---

Wild Stars Navigational Chart:

Wild Stars History 1970s 1980s 1990s New Millennium 20teens Production Notes Mary Tierney Paintings Wild Stars 1 Preview

---

Videos:

---

---

---

---

Bonus Material

---

---

---

Contact Us

---

Site navigational tip:
Return to the homepage by clicking on the logo bar at the top or bottom of any page.

---

Wild Stars page art, shown above without text, are © copyright 2001-2016 by Michael Tierney.




My Edgar Rice Burroughs 100 Year Art Chronology is
on sale now!



This Chronology is so packed with images and information, that there just isn't enough room to talk about it all.

One of those things are the 222 color movie stills taken during the filming of Tarzan's many movies and used as the covers of the UK's Tarzan Adventures in the 1950s.

While the Tarzan movies were black & white, these are COLOR stills that have never been seen in the US!

While I was assembling them for the Chronology, I sometimes wondered what they might be saying during these shots. Too irreverent for inclusion in the Chronology, here is TARZAN FUMETTI!: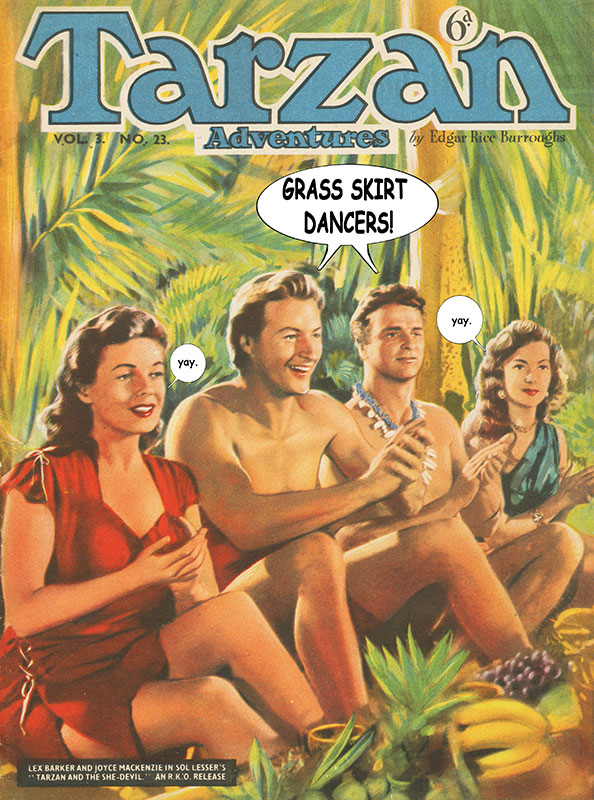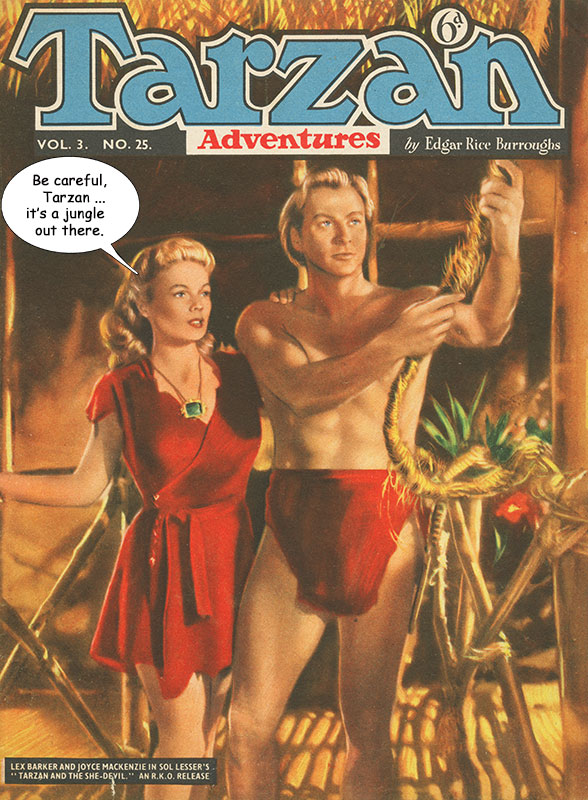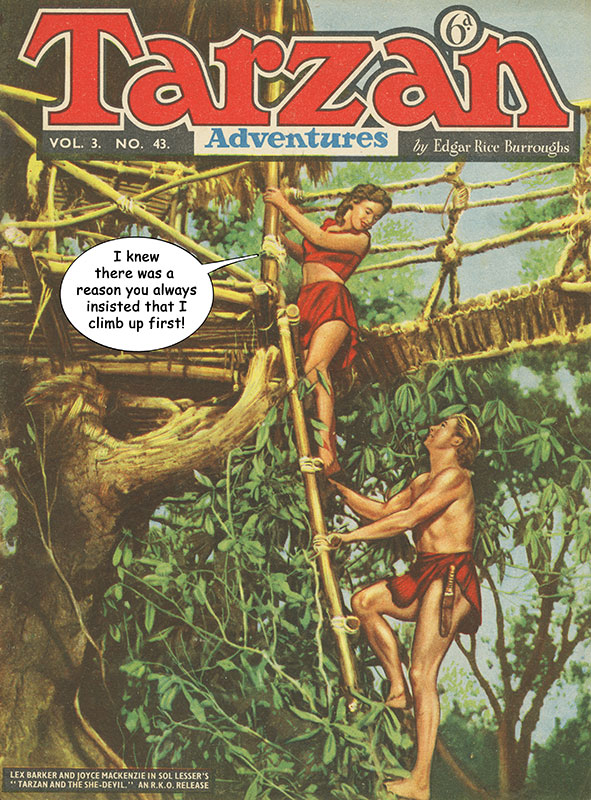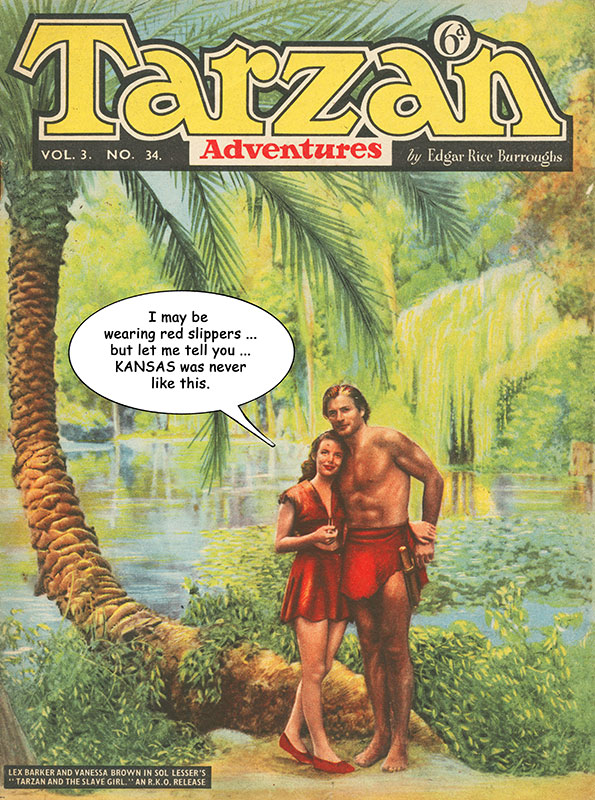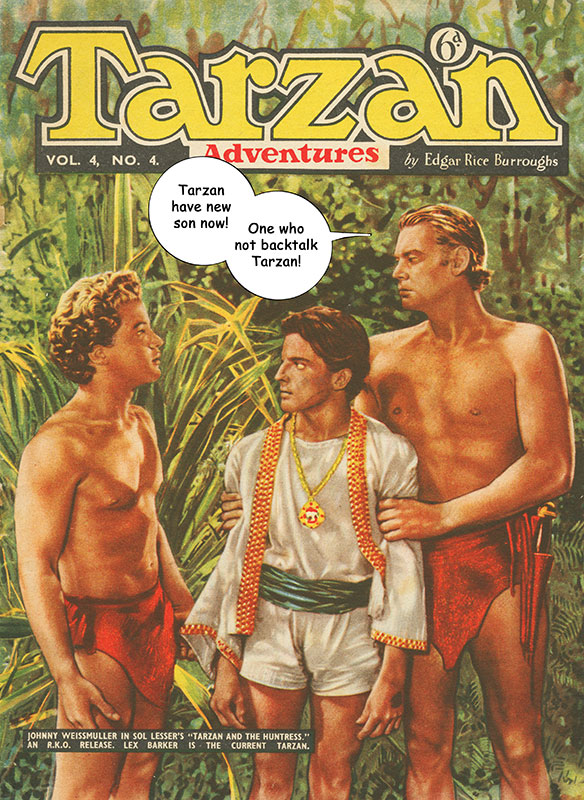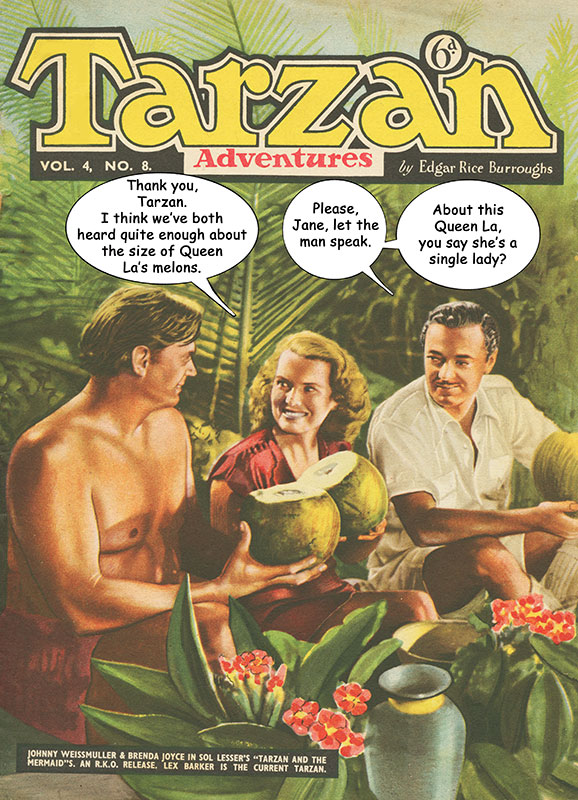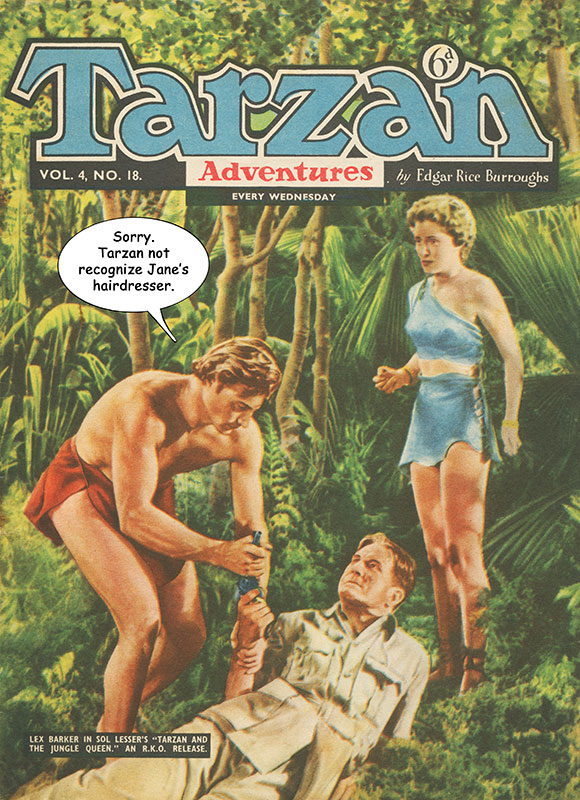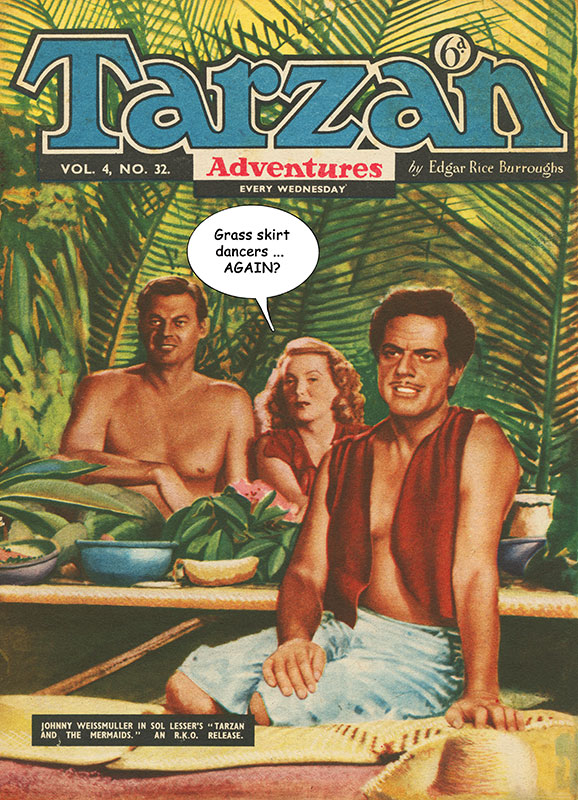 And not a single Cheetah joke in the bunch!

I already did that in the Tarzan's British Heritage section linked below.

You can find 222 of these movie stills, unseen in the US, in Volume Four of the Edgar Rice Burroughs 100 Year Art Chronology!

And ... while we're spoofing ... here is one fron the U.S. Dell series, plus a combination of two Pulp covers from Volume One combined to create the crossover event that every ERB fan always wished had happened:

Tarzan of Mars!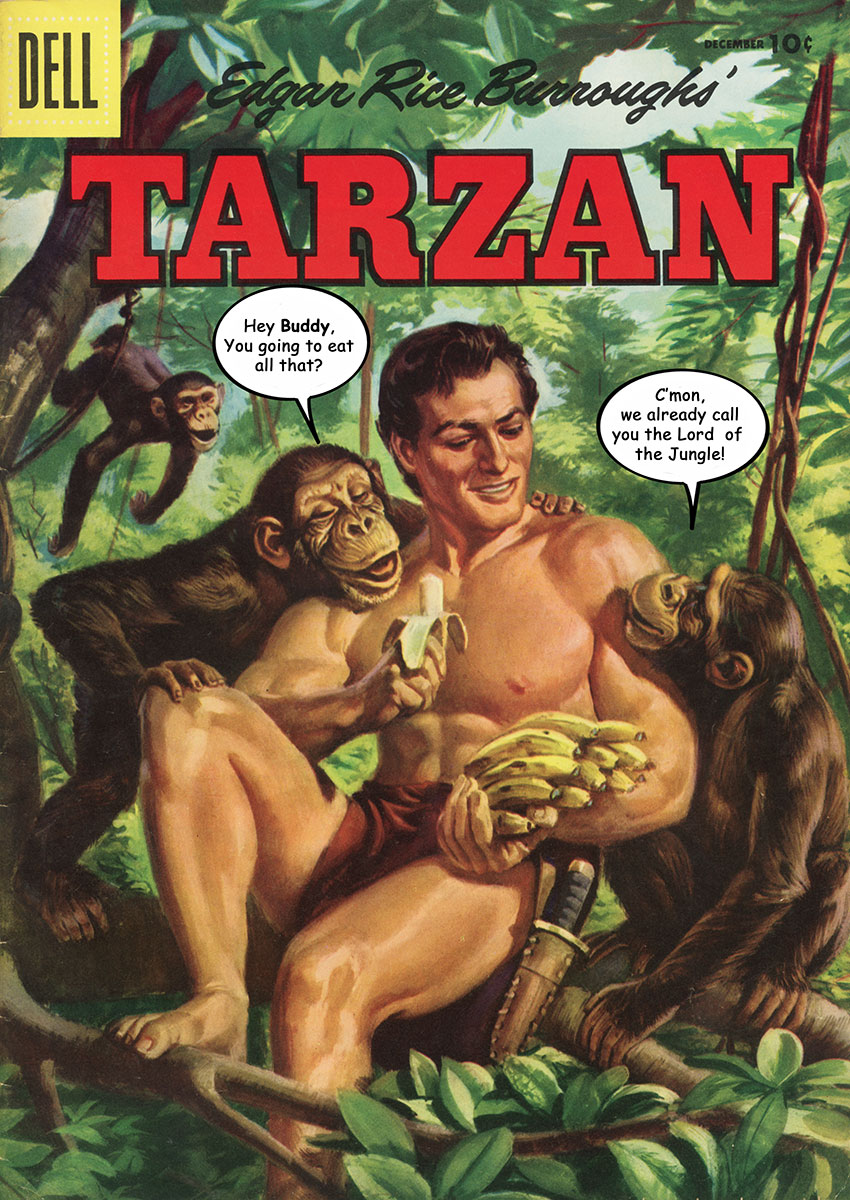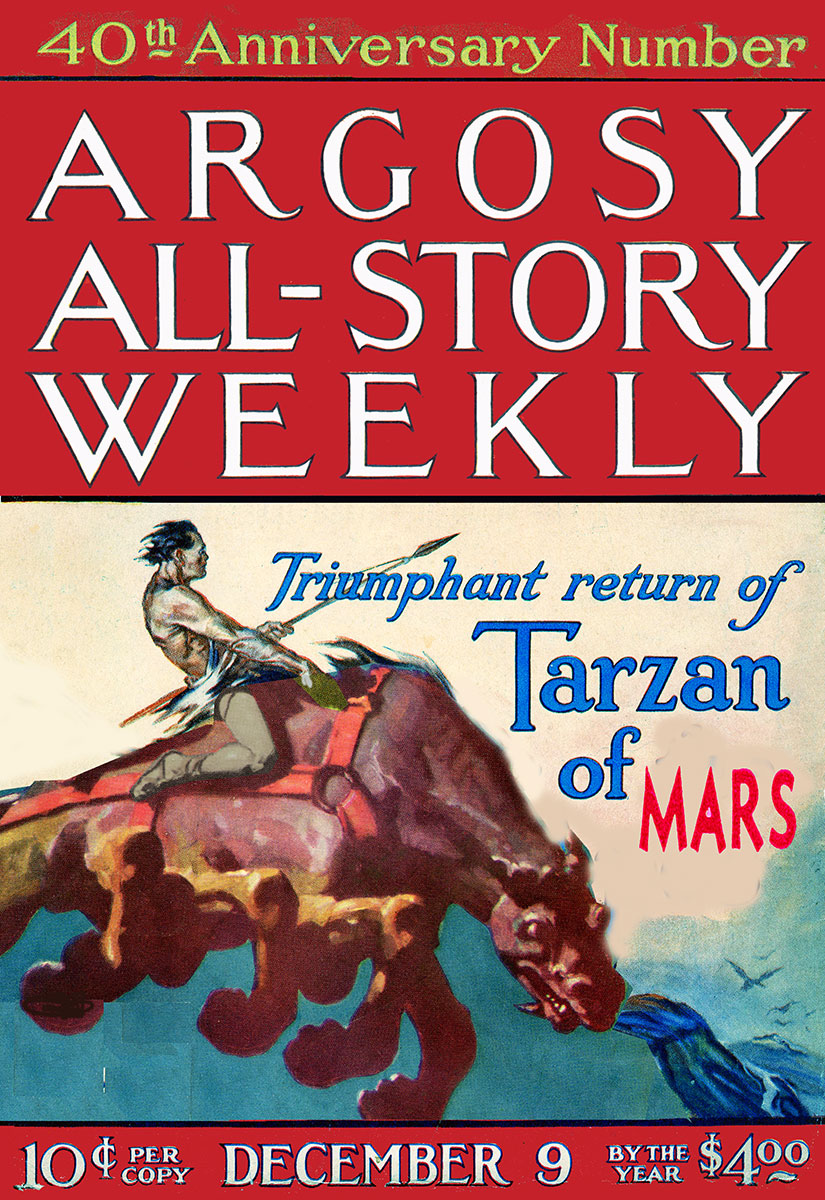 ---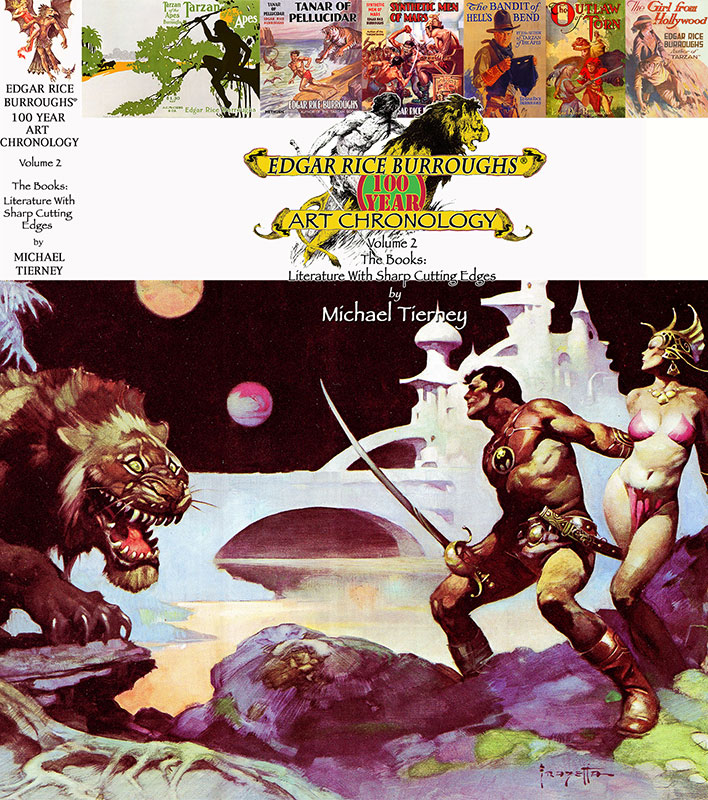 ---
---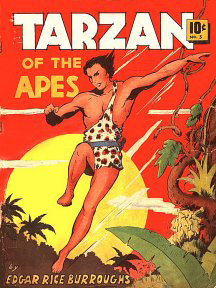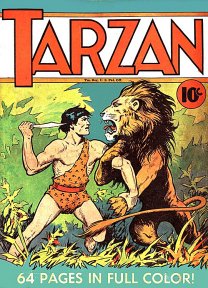 I've started a new section on the History of Comics. For the initial overview of how comics are made, start here.





---




Tarzan's birthright isn't the only thing British about him. Tarzan comics have a very long publishing history in the foreign language known as the King's English. Explore here:








---



Tarzan wasn't the first creation of Edgar Rice Burroughs. Before the apeman, he created the greatest swordsman on two worlds:
John Carter of Mars!



---




True adventures of a masked Comic Book Store Guy:





---

wildstars.net
wildstars.biz
thewildstars.biz
thewildstars.ca
wildstars.club
wildstars.co
thewildstars.co
wildstars.guru
wildstars.info
thewildstars.info
thewildstars.me
wildstars.mobi
thewildstars.mobi
thewildstars.org
wildstars.pro
wildstars.us
thewildstars.us
thewildstars.ws
wildstars.xyz
michaeletierney.com
michaeletierney.net
michaeletierney.org
michaeletierney.info
littlerocketpublications.com
littlerocketpublications.net
littlerocketpublications.org
littlerocketpublications.info

---

Wild Stars is a Registered Trademark of Michael Tierney

Little Rocket Publications TM is a Trademark of Tierney Incorporated